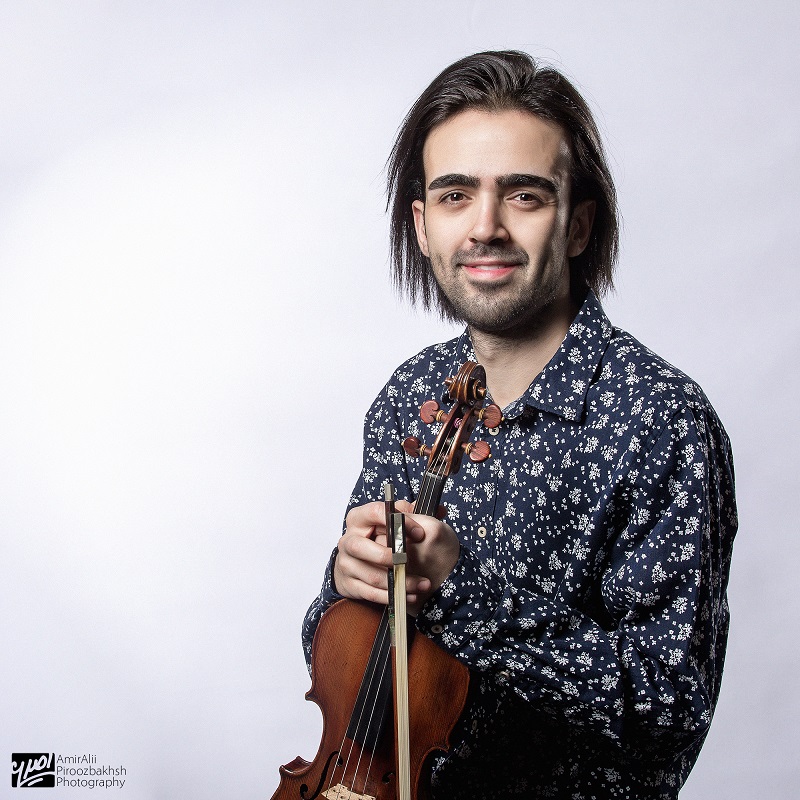 READ MY STORY
Amir Azimi
(May 1988 – Tehran)
He learned the basics of music theory and solfège from his father and at the age of 12, started to learn music and playing the violin academically under the supervision of Maziyar Zahireddini at Tehran Music School.
After graduation from the conservatory, he entered university and benefited the mastery of high-profile Iranian musicians such as Siavash Beizai, Mohammad Azadehfar, Alinaghi Afsharnia, Taghi Zarrabi, Marjan Ghanbarimehr, Pedram Faryousefi, Masoud Ebrahimi, etc. In 2010, he graduated with a B.A degree in violin.
Azimi has a list of collaboration with various eminent orchestras including: Tehran Symphony Orchestra, Iran National Orchestra and Tehran Chamber Orchestra, etc. and playing along with celebrated artists and masters such as Hossein Alizadeh, Loris Tjeknavorian, Shahrdad Rohani, Homayoun Shajarian, Drake Gleeson, Farhad Fakhreddini, Alexander Rahbari, Alireza Ghorbani, Matthias Krueger, Bardia Kiaras, Manuchehr Sahbaei, Sirvan Khosravi, Mohsen Yeganeh, Mohammad Esfahani, Siamak Abbasi, Nima Masiha, Khashayar Etemadi, Roozbeh Nematollahi, Ali Lohrasbi, etc.
He also has composed, arranged and produced music among which are some pop and orchestral pieces for Iranian famous singers. One of his most exemplary works is the first Persian "A cappella" music video in Iranian music history which is called "Morgh-e Sahar".
His first album "Elegy for Lost Memories" was released on spring 2015 and second album is his first attempt as a violin and piano soloist aside from his second experience as a music composer.